Since it was reopened for traveling activities, many tours, hotels, and resorts in various parts of the world are starting to operate as usual. Are you one of the people who are planning to travel this year? If so, then there is nothing wrong with trying to stay at one of the most expensive hotel lists in the world.
Here is a list of the 10 most expensive hotels in the world that you can visit!
1. Palms Casino Resort, US
This resort should be your top choice if you plan a luxury vacation in Las Vegas. This resort's most expensive room type is the Empathy Suite, which reportedly costs US$100,000 per night. You also need to book a suite for at least two days. Designed by British artist Damien Hirst, this luxurious suite consists of an outdoor cantilevered pool, two master bedrooms, a massage room, a relaxation room gym, some of Hirst's artwork, and a bar.
2. Submarine Hotel, Caribbean Island
Submarine Hotel offers a once-in-a-lifetime experience for those who wish to immerse themselves in the serenity of marine life, with the cost of a one-night stay reported to cost US$235,000. The hotel provides a personal captain, chef, butler, and many other perks such as helicopter trips, beach excursions, and sumptuous breakfasts in bed.
This self-contained submarine hotel is located in St. Lucia, the country of the Caribbean Islands, and moves according to the guests' wishes. The beautiful interior of the submarine will take your breath away. Every hotel corner exudes luxury, from the minibar to the bathroom. Five-star accommodation is soundproofed to ensure guests' privacy.
3. Hotel President Wilson, Switzerland
This gorgeous hotel in Geneva has 22 suites and 204 guest rooms, and the Royal Penthouse Suite is the most expensive option, reportedly costing US$80,000 per night.
Located on the eighth floor, the Royal Penthouse Suite offers 12 bedrooms with views of Lake Geneva and marble bathrooms furnished with Hermes products. This suite is also known as the largest in Europe and will blow your mind with its beautiful views.
Contemporary decor, stately furnishings, and beautiful views make this hotel an excellent choice for a luxurious stay.
According to his website, "Overlooking Lake Geneva and minutes from the most beautiful parks and boutiques along the most iconic location in Geneva against the backdrop of our most iconic hotel is one of the most iconic locations in Geneva, one of the most iconic locations in Geneva, in one of the most iconic locations iconic in Geneva, in one of the most iconic locations in Geneva, Blanc."
4. The Mark Hotel, USA
Designed by French interior designer Jacques Grange, The Mark Hotel New York promises its guests a once-in-a-lifetime experience with many amenities — from a hairdresser's salon Frédéric Fekkai's famous, well-equipped fitness center, various services for children and dogs, chauffeured trips around Manhattan, or delicious sweet treats from Ladurée.
The most expensive option to stay at this hotel is The Mark Hotel Penthouse, which reportedly will cost you US$75,000 just for a night. The penthouse, measuring 10,000 square feet, features three king bedrooms, two queen bedrooms, six bathrooms, one library room, a dining area that seats 12 people, two dressing rooms, a private rooftop terrace with an outdoor dining area, and a conservatory.
5. Laucala Island Hilltop Estate, Fiji
According to the website Laucala Island, this private island in the South Pacific combines lush rainforest with white sandy beaches to create this luxurious stay. The 25 Fijian-style villas are spread amidst coconut groves and surrounded by serene sandy beaches. Perched on the island's volcanic mountains, the villas offer views of the ocean, coral reefs, and forested grounds.
This island resort has five restaurants and bars, offering barbecue, fine dining, and more. You can also enjoy golf and water sports.
The Hilltop Estate, reportedly costing US$61,000 per night, is their most expensive room type. It also features two guest residences, a private cook, driver, personal nanny, and a landscaped pool.
6. Four Seasons Hotel New York, USA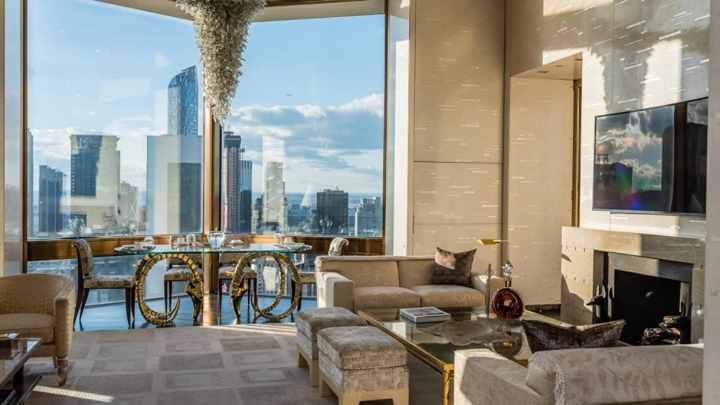 One of the most expensive hotels in the world, the Four Seasons Hotel was designed by architect I.M. Pei. This hotel is located between Park Avenue and Madison Avenue in New York. Guests can enjoy bespoke cocktails at the Ty Bar or simply enjoy some sightseeing through the hotel's Rolls-Royce.
The most expensive option to stay at this hotel is the Ty Warner Penthouse, which can reportedly cost US$60,000 per night. The Ty Warner penthouse occupies the entire 52nd floor of this hotel and offers beautiful city views.
The majestic bathroom features an onyx and crystal stone bathtub. The Ty Warner Penthouse features four glazed balconies, a private library, a private spa, and a private guest relations manager.
7. Hôtel Martinez, Cannes, France
This hotel, with 411 rooms and suites, is a perfect blend of Art deco and modern design. One of their most expensive room types, the Penthouse Suite, reportedly costing US$53,000 per night, will impress you with its terrace, which offers stunning views of the bays of Cannes and La Croisette.
It has a private Jacuzzi, Turkish bath, and butler service. Designed by Pierre-Yves Rochon, this 12,109.4-square-foot suite has two ambiances for guests to choose from — the Actress Suite and the Producer Suite.
Hôtel Martinez is a favorite among celebrities during the annual Cannes Film Festival. Apart from having a fitness center and a dedicated spa, the hotel also has a children's club for children aged three to 12 and is pet-friendly.
8. Conrad Maldives Rangali, Maldives
This resort is the perfect way to escape the hustle and bustle of city life while enjoying some quality time in nature's lap. From excellent dining facilities to quiet stay options, Conrad Maldives has all the ingredients to relax your holiday.
The Muraka is the most expensive residence in the hotel, reportedly priced at US$50,000 per night. Guests must book a minimum stay of four nights.
This two-story villa features an underwater bedroom, 24-hour butler service, a personal chef, a fitness trainer at your disposal, and a private jet ski, among many other bespoke amenities.
9. The Plaza Hotel, New York
In addition to its high-end concierge and spa services, New York The Plaza Hotel also provides babysitting facilities. Guests can also choose this ultra-luxury hotel as a meeting and event venue, as it has hosted many world leaders, dignitaries, and celebrities.
The Royal Suite is the most expensive of which is US$40,000 per night. This Royal Suite has three bedrooms with private lift access, a separate library, fitness room, chef's kitchen, butler service, and toiletries from Guerlain.
10. Burj Al-Arab, United Arab Emirates
Described as "a hotel that is home to cutting-edge engineering — from a unique man-made beach and an infinity pool terrace, to one of the tallest majestic atriums at 180 meters high", Burj Al-Arab will blow you away with its elegance.
Whether it's décor, restaurants, or wellness facilities, the hotel stands tall on an artificial island and aims to provide the best for its guests.
The most expensive hotel stay option is the Royal Suite, which is reported to be USD$28,000 for a night. Adorned in 22-carat gold-themed decor, this suite has luxury written all over it. This accommodation has a private dining area, butler service, spa, and lounge area.
This is the list of the 10 most expensive hotels in the world. Which one is your dream hotel to visit?